"'Abba, Father,' he cried out, 'everything is possible for you.
Please take this cup of suffering away from me.
Yet I want your will to be done, not mine.'"
~Mark 14:36 (NLT)~
Clayton L. "Booger" Sibley
October 15, 1955 – September 05, 2021
Clayton L. "Booger" Sibley, a resident of Pine Grove, LA, passed away on September 5, 2021 in Westcliffe, CO. He was born October 15, 1955 in Denham Springs, LA and was 65 years of age. He is survived by his wife of 42 years, Lynda Davis Sibley; 2 sons, Daniel Sibley and wife Amanda and Darren Sibley and wife Brooke; grandchildren, Clay, Cade, KenLee, Aria, Italia and Bransen; 2 brothers, Charlie C. Sibley and wife Libby and Raymond Sibley and wife Sandra; sister, Stephanie Sibley Strickland; numerous nieces and nephews. Preceded in death by his son, David Sibley; parents, Jimmie and Lorena Sibley; brother, James C. "Jimbo" Sibley and wife Frances. Visitation at McKneely Funeral Home, Amite, from 9:00AM until Religious Services at 1:00PM on Thursday, September 16, 2021. Services conducted by Rev. Mike Woodard. Interment Pine Grove Cemetery, Pine Grove, LA. For an online guestbook, visit http://www.mckneelys.com.
"Booger's" wife, Lynda, work with David for many years.
Here we go with another storm. Ida brought wind. The next one is predicted to bring rain and flooding in some areas. Be prepared. Help someone else to be prepared.
Thinking about storms, I thought you might enjoy and learn from the following article: https://baptistmessage.com/experienced-fbnos-gilbert-being-used-by-god-devastated-community/?fbclid=IwAR0HZ2MNEyDyx1qrV_JjFVi6iGTRvpEjGnPMbCpRsgrUkEzaRXeEhFOCsU0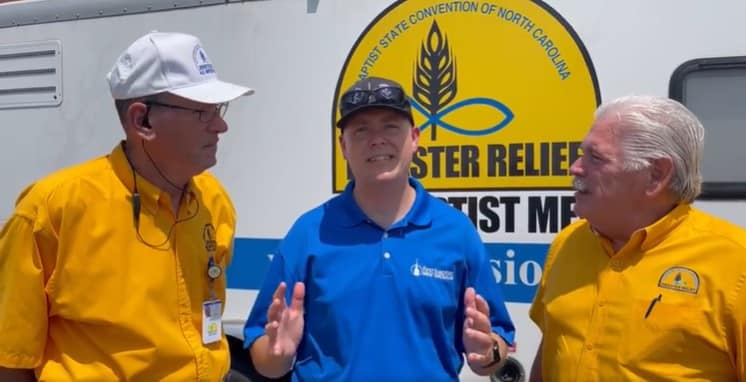 A Mountain Challenge for a Miraculous Church
Shoeboxes need $9.00 postage per shoebox. Please help ship our shoeboxes. You can turn a check into the church office or put it in the offering on Sunday mornings. Be sure to mark it "Shoebox Postage". Thanks. You'll be helping to get the message of Jesus to a boy or girl somewhere far from Kentwood. What an opportunity to be a missionary!
Week of Prayer for the Georgia Barnette Offering for Louisiana, Day 3
A Mountainous Challenge for a Miraculous Church
Missions is a small word with a big meaning and influence on others. I hope you participate in the ways God leads you.
Anna Lee