"If you need wisdom, ask our generous God, and he will give it to you. He will not rebuke you for asking."
~James 1:5 (NLT)~
Ana Spiers had her third surgery in three days Saturday. It went well. She is able to sit up in ICU. Please continue to pray for her and her family.
Ronald Lee Eichholz
July 9, 1943 – March 2, 2021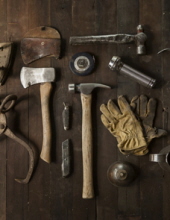 Ronald "Ron" Lee Eichholz, 77, of Jefferson City, passed on Tuesday, March 2, 2021 in McAllen, Texas. He was born on July 9, 1943 in Westphalia, Missouri; a son of the late Clem and Bernadine (Scheppers) Eichholz. Ron was united in marriage to Patricia "Pat" Natsch on October 16, 1965 in Jefferson City.
He was a 1961 graduate of Fatima High School. In 1962 he joined the United States Marine Corps, serving with 5th Marines and deploying in support of the Cuban Blockade and to Okinawa until his honorable discharge in 1965. He began working for National Cash Register (NCR) on his return home and retired from the company in 2001 after 35 years. After he retired, he rediscovered his love of woodworking and built furniture, eventually turning wooden bowls and pens. He enjoyed gifting them and would never accept money for his creations. Most importantly, he loved making memories with his family. In 2017, he moved back to the area and was happiest when spending time with his brothers, sisters, nieces, and nephews. He will be greatly missed.
Ron is survived by his wife of 55 years, Patricia Eichholz; children, Jeff Eichholz (Kristen) and Christina Rowe (Doug); brothers, Eddie Eichholz (Vernie), Norman Eichholz (Alice) and Jerry Eichholz; sister, Jo Ann Mertz (Ronnie); grandchildren, Jae, Jacob, and Jonathan Eichholz, and Connor and Hannah Rowe. He was preceded in death by his children, Scott and Angie Eichholz; brothers, Stanley, Charlie and Bob Eichholz; sisters Judy Eichholz, Marilyn Linnenbrink and Betty Lepper.
Family and friends will be received on Friday, April 9, 2021 from 5:00 p.m. – 7:00 p.m. at Hilke-Millard Funeral Chapel in Westphalia, with prayer service beginning at 5:00 p.m. Memorial Mass will be Saturday, April 10, 2021 at 10:00 a.m. at St. Joseph Catholic Church with Fr. Anthony Viviano officiating. Interment will follow in St. Joseph Parish Cemetery with full military honors.
Arrangements are under the direction of Hilke-Millard Funeral Home, 101 Linn Street; Westphalia, MO 65085 (573) 455-2424. Condolences may be left for the family online at http://www.millardfamilychapels.com. In lieu of flowers, donations may be made to the Semper Fi Fund in his honor.
Joyce Sloan Morgan
McKneely Funeral Home
Mar 6, 2021
A resident of Osyka, MS, passed away on Friday, March 5, 2021 at Forrest General Hospital in Hattiesburg, MS. She was born March 5, 1961 in Independence, LA and was 60 years of age. She is survived by her husband, Tod Morgan, Sr.; 3 children, Anthony Wayne Sloan (Tammy), Tod Morgan, Jr. (Chelsie), and Tiffany Meagan Morgan (Aaron Simmons); grandchildren, Peyton, Colby, Cooper, and Kellon Sloan, Hunter and Harlee Morgan, and Noah Simmons; mother, Ruth Sloan; brothers and sisters, Carl Cutrer, Mildred Rosamond, Melissa Cutrer, Charlene Griggs, and Cathy McIntyre. Preceded in death by grandmother, Catherine Sloan. Visitation at McKneely Funeral Home, Kentwood, from 9:00AM until religious services at 11:00AM on Wednesday, March 10, 2021. Services conducted by Rev. Raymond Garcia. Interment Lebo Cemetery, Chesbrough, LA. For an online guestbook, visit http://www.mckneelys.com.
Read the Bible chronologically in 2021 – March 6
NUMBERS 27:1-29:40
Prayer Focus for Today: Students returning to the classroom after a year of virtual school. I'm glad i'm retired. I can't imagine what this is like for teachers or students.
Annie Armstrong Offering for North American missions – Day 2 of Week of Prayer
Enjoy this cool morning.
Anna Lee